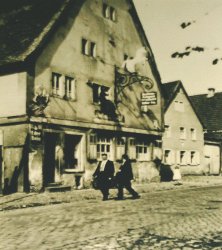 ABOUT US | HISTORY
In the year 1574 an inn in Kleinostheim is mentioned for the first time. It bears the name "Zum Weißen Rösslein".
Its location was most certainly at the same place where the inn "Zum Weißen Roß" is standing today, in the centre of old Kleinostheim, opposite the local chapel and near the linden tree, where assemblies and judicial courts were held.
In July 1904 August Josef Stolzenberger added a butcher's shop to the inn. In 1929 Gottfried Krug bought the estate and ran it till 1955.
1955-1985 his daughter Elisabeth Wiedmann, born Krug, ran the business. (The butcher's shop was closed in 1978).
Ruth Löffler, born Wiedmann, has been the owner since 1985. In 1989 she opened the hotel and has run it successfully since then.
Since 2000 the family has owned the newly renovated inn again, it is run by the son Jörg Löffler.